it's all about perception
or looking forward to growing older
interested in a little experiment?
It costs you nothing but five minutes of your time. If you want, the clock starts now (please set a stopwatch) – cast your mind on the following image:
It's 1982, it's Monday night, the 19th of April. Patchy clouds cover the sky. It's dry and eight degrees Celsius out.
Not bad for hopping onto your moped, your Fizzy, and meeting your friends Thomas and Sabine for a Fanta.
They only have a few hours left to complete in their driving lessons. They'll soon have their full licence and will be allowed to take out the family's Audi 100 now and again. That's been promised to them – when they pass their university entrance exams.
But, for now, it's "Light's out! Whoom! Spotlight on!" – Ilja Richter and his 45-minute disco. A couple of buttered rolls – wholegrain bread recently, now that mum's discovered health food. Quickly grab a kiwi, this fashionable new fruit from New Zealand, and the latest music video is already playing: Falco – Der Kommissar.
While the credits are rolling, you put your plate in the dishwasher, quickly pull on your new Edwin carrot fit jeans and slip on your leather jacked with the thick shoulder pads. And off you pop with 25 different things – none of which are a helmet – down to the pub.
Thomas and Sabine are waiting impatiently because they have news: a third ticket for the June festival in the woods – to see the Rolling Stones. Keep your mind in this timeframe until your stopwatch drags you back to the present...
"there is one thing
stronger than all
the armies in the world,
and that is an idea
whose time
has come."
Victor Hugo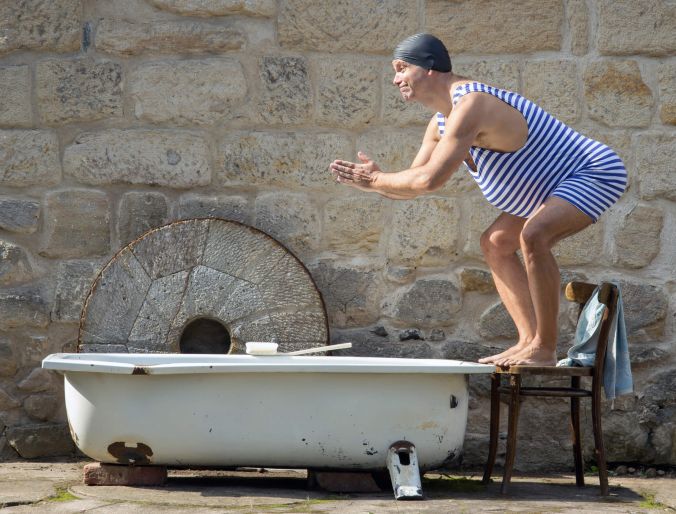 how do you feel?
As a baby boomer gradually pushing 60, how does this story make you feel? Agile, dynamic and enterprising? Or are you worried about dementia, needing care and care homes? If so, you'd share those concerns with many when you hear the word "age".
A 1979 experiment brought men aged in their late 70s, early 80s to a 1959 neighbourhood for a week and had them pretend it really was 1959. The experiment provided clarity:
After the week was up, a lot of what had been ailing the men had remarkably improved: mobility, eyesight, hearing, strength, sense of taste, vitality and energy. The conclusion? Attitude and perception have an effect on physical well-being – including in old age.
A self-determined, creative lifestyle led according to a person's own wishes, strengths and opportunities – that's precisely what the OldtimerCamp® has to offer. This fits in perfectly with a positive mindset.
If you, too, believe that you can make a difference, no matter what your age, then you are exactly the kind of person we are looking for. Perhaps we could listen to that song by Udo Jürgens and proceed to live our lives accordingly:
"life starts at 66..."